Glenn Christenson
Chairman of the Board
Glenn Christenson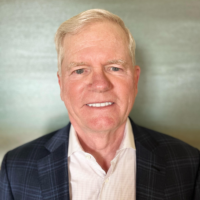 Glenn Christenson is a longtime Las Vegan with an extensive business career. Glenn is the Managing Director of Velstand Investments, LLC. Previously, he was the Executive Vice-President and Chief Financial Officer for Station Casinos Inc. for 17 years. Prior to joining Station Casinos, he was with the international accounting firm now known as Deloitte & Touche for 17 years where he was Partner-in-Charge of the firm's Nevada Audit practice and the National Hospitality Industry Audit Partner. In his nearly fifty years living in Southern Nevada Glenn has committed significant time to enhancing the education system as well as focusing on economic development and diversification in the community. He has served as Chairman of the Governor's SAGE Commission on K-12 Education, Chairman of the Community Implementation Council for AB469, Chairman of CCSD's Budget Task Force and Superintendent's Executive Advisory Committees among others. Glenn and his wife Ande have a long-term commitment to Nevada State College which is demonstrated through the Glenn and Ande Christenson School of Education Building. In his role as Chairman Emeritus of the Las Vegas Global Economic Alliance, he has also forwarded economic development causes in Southern Nevada. Glenn graduated from Wittenberg University in Springfield, Ohio and earned a master's degree in Finance from the Ohio State University.
.
John Guedry
Treasurer
John Guedry
John Guedry has 39 years of experience in financial services and banking industries in Nevada. Now CEO, Mr. Guedry joined Bank of Nevada in 2011, serving as both President and Chief Operating Officer. Prior to joining Bank of Nevada, he was the CEO and served as President of Business Bank of Nevada until City National Bank purchased it in 2007, where he remained as Executive Vice President until 2010. John currently serves as a Board of Director and Executive Committee member for Las Vegas Metro Chamber of Commerce, Las Vegas Bowl, and The Darren Waller Foundation. He is past-Chairman of the Nevada Bankers Association and Las Vegas Metro Chamber. a former Board of Trustee for UNLV Foundation and Las Vegas Global Economic Alliance, and a former Board of Director for Clark County Public Education Foundation, among others.
John is an avid cyclist, completing tours and competitions in multiple states and countries. A native of New Orleans, Mr. Guedry moved to Las Vegas with his family in 1974. He graduated from University of Nevada, Las Vegas, in 1982, with a bachelor's degree in business management. He and his incredible wife of over 38 years, Debra, have two talented daughters, Jennifer and Jaclyn & two active twin grandsons Bradley and Brayden.
Hannah Brown
Secretary
Hannah Brown
In January of 1945, at the age of six (6), my mother relocated from Stamps, Arkansas, to Las Vegas. I attended Westside Grammar School from the second half of my kindergarten year through the seventh (7th) grade. In 1954 I graduated from the eighth (8th) grade at Madison School as class salutatorian, the first (1st) year of its existence.
In 1954, I attended Rancho High School, the first (1st)) year it was in existence, where I served as Student Body Secretary. This was the first (1st) year I attended an intergraded school. Rancho was rezoned my sophomore year which placed me at Las Vegas High School through graduation.
As a fifteen (15) year old I was employed as a sales associate by Larry's Music Bar. As a young adult I became manager of the store and remained in that position until I accepted employment with Western Airlines in 1968.
Starting with Western Airlines as a reservations sales agent I progressed with the company to become their 1st African American and female station (location) manager. After Delta Air Lines purchased Western in 1987, I became their 1st as well. After receiving several managerial promotions including Regional Manager/Director with Delta Air Lines I remained in the corporate office for several years.
In 1994, I returned home and started actively working in my community. In 1999, I was elected President of the Urban Chamber of Commerce, a position I held for 8 years. In May of 2004, the Asian, Latin and Urban Chambers hosted a joint luncheon with 890 persons in attendance. In the two years that followed we had two successful luncheons with more than 1,000 in attendance.
In September of 2007, the UCC Board of Directors named me President Emerita in recognition of ten years of service.
In 2009, the UCC created a 501 © 3 which was respectfully named "The Hannah Brown Community Development Corporation".
In 2010, I was successful in gaining approval for a Four Million Dollar grant from the Centennial Committee to refurbish the Historical Westside Grade School which I attended.
In 2010, Olive Crest named their Ladies of Distinction award the "Thalia Dondero/Hannah Brown Award".
October of 2020, the CCSD School Naming Committee voted to name an elementary school in my honor. The Hannah Marie Brown Elementary School will open in August 2021.
On March 4, 2021, I was selected by the NSHE Board of Regents to receive the Distinguished Nevadan Award This is the highest award presented by the Board of Regents.
Career Highlights:
Profiled in Ebony Magazine "100 Of the Most Promising Black Women in Corporate America"
NAACP Legal Defense Fund "Black Women of Achievement" (1988)
Negotiated a 4 million dollar grant to restore Westside Grammar School to a cultural center
American Red Cross "Lifetime Achievement Award 2018
Clark County School District "Excellence in Education 2018"
Public Education Foundation "Champion of Children" 2018"
City of Las Vegas Citizen of the Month January 2016
Delta Sigma Theta Tribute Awards 2016
The Public Education Foundation Board of Trustees
CCSD Supt. Advisory Committee
Honorary Associates of Arts Degree in Humane Letters-Community College of Southern Nevada
Workforce Connections-Board Chair
Valley System Board of Governors
Nevada State College – President's Medal 2009
Nevada State College Foundation Board
Habitat for Humanity Board of Directors
Appointment-Executive Steering Committee for the Las Vegas Centennial Celebration (Las Vegas' One Hundredth Birthday 2005 Activities)
Olive Crest-Board of Trustees (Emeritus)
JAG Nevada Board of Directors
Proclamation from Governor Kenny Guinn 2003
Martin Luther King Parade – Grand Marshall 2005
Who's Who In Black Las Vegas (Interesting Personality)
U. S. Small Business Administration Minority Small Business Champion of the Year – State of Nevada 2006
Delta Sigma Theta Sorority, Inc. 2016 Tribute Award
Alpha Kappa Alpha Sorority, Inc. – Achievement Award
Delta Sigma Theta Sorority, Inc., – Community Service Award
Courtney Children's Foundations First Annual Woman of the Year Award
College of Southern Nevada's Black History Month Award