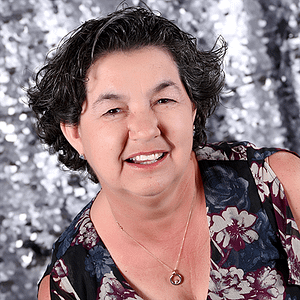 Patti Buono
Patti Pilat Buono is a proud member of the inaugural Teacher Leader Academy (TLA) in 2015-2016. At that time, Patti was working at Jerome Mack Middle School teaching Computer Literacy and Coding as well as Video Production. Her esteemed friend and principal, Dr. Roxanne Kelley James (retired) nominated her for TLA, and it was definitely a life-changing experience.
The rigorous and robust conversations from TLA propelled Patti to continue her studies. Pursuing National Board Certified Teacher status soon after TLA ended, Patti earned her NBCT in Adolescent Business Education. Without the interesting pedagogical discussions and guest speakers in TLA, Patti may not have taken on the huge task of NBCT. At this point, Patti has completed her Maintenance of Certification for NBCT, and encourages and mentors other candidates through the process.
Pushed by the leadership lessons learned in TLA, Patti has applied those principles to her love of Career and Technical Student Organizations. Wanting a bigger voice in Future Business Leaders of America, Patti joined the state Board of Directors. In addition to that responsibility, Patti earned recognition as Mid-Level FBLA Outstanding Advisor (2017), Nevada Adviser of the Year (2018) and was inducted into the international Wall of Fame for FBLA (2023).
Moving to West Career and Technical Academy in 2020, Patti serves as the Program Lead for Business Management, and is very excited about this program, which offers up to 21 CSN college credits upon successful completion. Currently, Patti is proud to offer a service to the greater Las Vegas community through her Accounting and Finance 3 senior class. The entire class becomes certified by the IRS each year as Basic and Advanced Income Tax Preparers. West CTA, under the leadership of Principal Amy Dockter-Rozar, completes hundreds of income tax returns for the elderly and lower income citizens of our Valley during tax season. This community service event stands as the single greatest program Patti has been involved with and it was for this program that Patti was honored as a Heart of Education winner (2023).
Having grown professionally since TLA, Patti has embarked on her own personal journey as a motivational speaker, blogger and author. Her website, www.ppilatbuono.com , combines the subjects she is most passionate about, and gives a voice to the leader she has become. TLA was certainly a catalyst for this endeavor.
Overshadowing everything, of course, is her intense love for and pride in her family. Brian and Patti, both career educators at CCSD, are proud of the adults their children have become, with Robert living in Las Vegas, and Steven (and wife Leah) living in Chicago. She is quite thrilled that her oldest child, Lee (CCSD – Instructional Coach), is an active member of the current Teacher Leader Academy.
BIOGRAPHY INFORMATION:
Originally from Montclair, NJ
Bachelors from Montclair State University (NJ)
Masters from Grand Canyon University (AZ)
Business Education teacher who has taught from 6th grade through adult continuing education
Married to Brian (CCSD – Early Childhood Special Education) since 1990, with three adult children and one daughter-in-law
Taught in New Jersey starting in 1987
Started teaching in Clark County in 2006
Addicted to travel and Disney
Retiring in 2026!