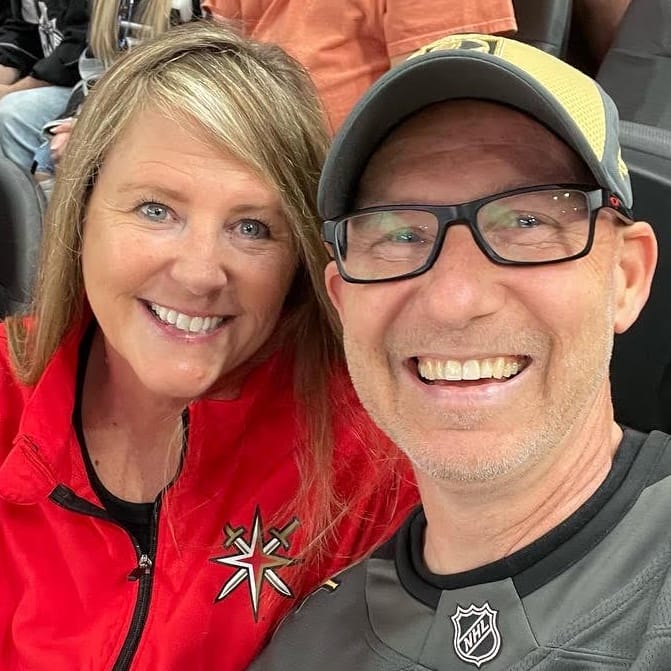 Kelly O'Rourke and Derek Fialkiewicz
As part of our Alumni Spotlight, the Leadership Institute of Nevada wanted to catch up with Kelly (KO) and Derek (DF) since their departure from the Clark County School District one year ago. We asked Kelly and Derek if they would interview each other. We hope you enjoy learning about who they are, their education journey, the support they provide each other, and their impact in education.
Briefly describe your educational background.
DF: After 10 years teaching math and computer science at Green Valley High School (3 as the Math Department Chair), I realized my passion was helping teachers grow through professional development. I joined the Regional Professional Development Program (RPDP) Secondary Mathematics team where I was able to collaborate with some amazing teachers while assisting struggling teachers. It did not take long for me to begin missing working directly with students, so I went back to school to earn my MS in Educational Leadership from NOVA. A few months later, I began my first administrative position as Dean of Students at Bonanza High School. Those were some of the most fulfilling years in education, helping students stay on track and graduate from high school. I enjoyed being a dean at Bonanza High School so much, I stayed for 3.5 years before becoming an assistant principal at Cram Middle School. At Cram Middle School, I was provided the freedom to try new things and explore my leadership ideas and philosophies. After years of horrific interview experiences, the perfect position came along at the perfect time and I ended my 5 years at Cram Middle School to become the principal of Lied Middle School (yes, I took over for Kelly). During my 5 years at Lied, we transitioned to Lied STEM Academy Middle School and pushed a lot of boundaries. I earned my EdD in Mathematics Education from University of Nevada Las Vegas (UNLV) in 2021. Looking for a new challenge, I applied and was hired as the superintendent of Corbett School District in Corbett, Oregon, so I retired from Clark County School District and packed up and moved to Oregon.
KO: I earned a BA in Political Science from the University of Nevada Las Vegas (UNLV). As my children grew up, I began teaching at Our Lady of Las Vegas, where they attended. I fell in love with teaching and went back to school to earn a K-8 teaching credential with an emphasis in Mathematics. I was hired as a Math/Science teacher at Von Tobel Middle School, where I also taught English Language Learners (ELL). I moved to Hyde Park Middle School to focus on teaching math. After serving as the Math Department Chair, I was hired as the CCSD K-5 Math/Science Coordinator. Missing being around students, I went back to school and earned my MS in Educational Leadership from NOVA. I spent 5 years at Lois Craig Elementary School (2 as assistant principal, 3 as principal), 3 years as principal of Lied Middle School, and 3 years as principal of Desert Oasis High School before being promoted to Assistant Superintendent over Assessment, Accountability, Research, and School Improvement (AARSI). After 2 years there, I moved into a School Associate Superintendent position. One year later, I retired from Clark County School District to take my current position of principal of Camas High School in Camas, Washington. I am currently working on my PhD in Learning Sciences through UNLV with an anticipated completion date of May 2025.
What is your educational philosophy, and how has your background influenced it?
DF: I know this sounds cliche, but I believe all students can be successful when provided with high, but realistic expectations, necessary support, and a fun, energetic learning environment with passionate educators. I remember when I started at Lied Middle School, I wanted to reimagine the classroom environment, furniture, paint colors, etc. I asked my son, who was in grade 9 at the time, what classroom environment was most conducive to learning. His response floored me, "Paint color and furniture don't matter as long as you have a teacher who is passionate about what they are teaching." Kids get it. We should listen to them more. Having worked with so many drastically different populations of students, I have learned that all students truly can be successful when put in the right environment with the right educators.
KO: I look at education as the means to more choices and freedom you have to enrich your life as you desire. It is sort of a gatekeeper, in a way. When we provide an environment in which students of all abilities and backgrounds have an opportunity to acquire knowledge, skills, social skills and experiences beyond their homes, we are opening more doors for them. Knowledge and skill are free and the one thing that cannot be taken from another. It is powerful and I believe it is under-appreciated. Self-confidence is derived from education and knowledge and purpose and I think it is our responsibility to take this task seriously.
What is your leadership philosophy?
DF: My leadership philosophy can be summed up in two words: Modeling and collaboration. If you are asking or expecting your staff and students to act a certain way or do certain things, then you better act that way and do them as well. I will never forget my first supervisor telling me over and over again, "The students are always watching." The same goes for our staff. Most of the things I have expected from my students and staff over the years, I didn't have to ask or explicitly state. I just modeled. They saw me picking up trash off the ground, interacting with others using grace and patience, having fun, making mistakes. Additionally, the old saying goes, "Great leaders surround themselves with experts." I take that one step further that the greatest leaders ask for and listen to advice from the experts around them. I will never profess to be an expert in anything, which is why I very rarely make a decision in a vacuum. I would rather wait a few days to collect and analyze the opinions of those whom a decision with most affect before making a final decision.
KO: I believe that I am intuitive to those around me. Leadership is working with a group of people, figuring out their strengths in order to capitalize on them for the good of the organization and then building in opportunities to grow the areas they may need refining. I feel I can "read the room" – I know when to push and I know when to pull back a bit. The challenge is that sometimes urgent changes take longer than I would want. However, I am looking at sustainability as well. Pushing a group of people in your vision can certainly happen, but if the process is contrived or not completely bought in, then the work may not be sustainable. When the work is successful in making change and that work was genuinely built around the whole, then people are happier and tend to be more appreciative of what they are doing day to day.
What do you see as your greatest achievement as an educator?
DF: When we first opened Lied STEM Academy Middle School it was solely based on my dream of what education should be. We had no idea if it could actually work in practice. Yet, over 1,200 parents applied for their children to attend and amazing staff from around the District applied to work there. There were three students in particular whose parents applied who, in grade 5, were in a self-contained setting. By rule, magnet schools were not allowed to have self-contained classrooms. Wanting so badly for their children to attend Lied STEM Academy, each of the parents asked for an Individualized Educational Plan (IEP) revision and begged for their child to be placed in a less restrictive general education setting. All three of these students, in their own ways, thrived during their three years at Lied STEM Academy, and are now thriving in high school. One of them moved from self-contained to resource to double-accelerated classes in one year. All because we created an environment where every student was accepted and provided the individual resources necessary to succeed.
KO: I do not know if I have a greatest achievement. It seems like I have had an impact at some level in all of the areas I have worked 1) math teacher 2) Coordinator of math in the Curriculum and Professional Development (CPD) office 3) Principal of Lois Craig Elementary School 3) Principal of Lied Middle School 4) Principal of Desert Oasis HS 5) Assistant Superintendent of AARSI 6) School Associate Superintendent supervising principals in Region 3 and now back to what I love… 7) Principal of Camas High School. I write all of that to make my point that I think I have left some positive impact at each location, just not certain there was a greatest achievement – maybe I still have time for that.
How has the Executive Leadership Academy affected your philosophy and career?
DF: I was a member of Cohort 5 of the Executive Leadership Academy. As an assistant principal at the time, I was the only non principal or central office coordinator or above in the cohort, which led to my feeling a bit of inferiority within the group. That quickly dissipated as the cohort was extremely accepting and valued my opinions. I always tried to be a bit of a "cage buster", but I usually ruffled feathers while doing it. Being a member of Cohort 5 gave me the confidence and the tools to walk into a principal position ready to affect positive change in education. I learned how to leverage data, budget, and people to turn a "No" into a "Yes" without ruffling too many feathers. I also had the confidence to turn my dream of what education should be into a reality. I truly believe Lied STEM Academy Middle School owes a lot to the Executive Leadership Academy. In Oregon, there are two different levels of education administrator licenses: Principal (school-based) and Professional (central office and superintendent). The Professional License requires 18 additional hours of coursework in specific administrative areas. The Oregon Department of Education Licensing Department approved my Professional License based solely on information about the Executive Leadership Academy and a letter of explanation from Dr. Brian Myli.
KO: Without sounding too mushy, I believe the Executive Leadership Academy (Cohort 2) came at the right time for me. I was the principal at Lois Craig and I was really just trying to figure things out. I knew I had the knowledge and skill, but what I was missing was the collaboration with seasoned professionals outside of the district to help push my thinking, to allow me a space to think, to reflect, to know where I could go to further my knowledge bank. I loved the opportunity to hear what is happening beyond Las Vegas – the trends in thinking, etc. Growing your own and utilizing the intelligent and talented people in your own district is wonderful. But then it becomes an echo chamber. Overtime, people in the same organization are always collaborating, the thinking becomes stale. To be able to listen and reflect from those outside is a blessing and only adds strength to our own district. Because the leadership program was not in a large conference style that we usually experience, the intimate conversations and discussion make the work relevant and deep. It was the stepping stone to who I am today.
How did the two of you meet?
DF: We are such math nerds… KO and I were reviewing and writing CRT items for the Nevada Department of Education in Sparks, NV along with other teachers from across the state. A group of us made plans for dinner the first night. KO and I were the only ones who showed (awkward). We ended up talking and laughing for hours realizing we have much more in common than math. We stayed in touch when we returned to Vegas, and nearly 17 years later, here we are…
KO: We actually first met at a committee meeting at CPD. It was to develop a new syllabus for Pre-Algebra and we vocally did not see eye to eye about the inclusion of negative exponents. But we really became friends during our work at the State. A bunch of nerds writing math problems day in and day out for CRTs – only great things can come out of this grouping. Eventually, we turned dating into putting two families together and the rest is history, as they say.
How have you influenced each other's careers?
DF: I don't think I have influenced KO's career at all. She is a natural born leader who people gravitate towards. KO has influenced me and my career tremendously. I would not be the leader I am today without her. I was at a superintendent's conference earlier this year and we were talking about the importance of having mentors and thought partners. I stated how lucky I am that I am married to my mentor and thought partner. She understands what I am going through, because she has lived it at some level and gives me great advice and guidance. When I was going through years of interviewing for principal jobs, we would debrief after each one. Inevitably KO would end up saying, "You said what? Oh… When is the next opening?" She literally began making a list of things I was not allowed to say in an interview. I guess calling my children "crapheads" in an interview is frowned upon. Who knew? Over the years, KO has pushed and supported me to places I never imagined, like the Pacific Northwest.
KO: I think we both have the same educational philosophy and yet different ways to go about getting to the endgame. I tend to be more strategic and think long term. I try to envision what I will be happy with next year, three years from now and in the long-term. Derek just sees what needs to be done and just does it. He has been very successful and people really trust him which has allowed him to make quick jumps. I like to listen to his ideas and I actually learn a lot just listening to what he is thinking. I may not jump on all of the ideas but it does help me in reflecting on what I am planning.
How would you describe your work/home life balance?
DF: We laugh a lot and watch a lot of sports. I know the "experts" say you are not supposed to bring work home with you, but that is much easier said than done, especially when your spouse is your mentor and confidant. I am constantly asking KO for her advice on how to handle a situation or respond to an email. We do make sure, though, that we carve out time just for us. That was a lot easier in Vegas when we had about 50 dates to Vegas Golden Knights' games built into the schedule each year. Now we have monthly Broadway in Portland shows, winery and brewery visits, and a plethora of new restaurants to keep the focus on us. I think it is much easier to have a healthy work/home life balance when you live with your best friend and you each have a mutual respect and understanding of the other's career.
KO: I think it is perfect! I tend to be a little neurotic about work and get caught up in it way too much. But I think it is so nice that we can do things socially, enjoy each other's company and yet have great conversations about education. We talk about it a lot and it is a great thing. It is never boring. How can you go wrong drinking some wine over a nice conversation on grading policies!?!
What made you decide to leave Las Vegas and move to the Pacific Northwest?
DF: Well, I know what KO is going to answer… "That guy!" We had no plans of leaving Vegas. Our children are grounded there; we lived in a great condo with spectacular views of the Strip and Downtown; we went to every home VGK game and many away games; we were beginning to lean into the idea of Vegas as our forever home. Then I received an email that changed everything. Normally I deleted all of the emails about superintendent openings across the country. For some reason, I opened the one for the Corbett School District. Immediately, the multiage classrooms, project-based learning, place-based learning, competency-based grading in Corbett caught my attention. The more I researched it, the more I was intrigued. KO said I need to apply, because I would regret it if I didn't. Neither of us thought I had a chance at getting an interview, let alone getting hired. When they offered me the job, KO and I just sat there in shock. We didn't even really celebrate. We were literally in shock. I am a firm believer that things happen the way they are supposed to, when they are supposed to. Every step of my career, I ended up in the exact right place at exactly the right time, even if I didn't believe it then.
KO: ………Derek Edward Fialkiewicz
How would you describe the similarities and differences between education in Nevada and Oregon/Washington?
DF: There are a lot of similarities. First and foremost, kids are kids no matter where you are. Education in Oregon, like Nevada, is woefully underfunded, which is very challenging. The fact that my district is the size of an elementary school in CCSD is a huge difference. Staffing and facility use are great challenges in a very small district. Additionally, I am in charge of pretty much everything (HR, hiring, EMR, budget, finances, student discipline, communications, etc.), which is how I would prefer it anyway. The greatest difference in ideology here is around equity. Equity isn't just a buzz word in Oregon, it is ingrained in all practices and has been for decades. The syllabi for each of the courses in the Educational Leadership programs of the local colleges are deeply rooted in equity and social justice.
KO: Washington has some very strict laws on compulsory attendance and other similar educational policies. In Camas, the district is very small, so you do not see clear policies and procedures and central office support in areas such as special education or curriculum and content professional development like we have in Vegas. You are sort of on your own to figure it out. At my high school, students need 24 credits to graduate, but there are waivers that schools can use to bypass certain credits to get a student to the finish line. I do not believe that it waters down the expectation, I just think that it is a reasonable way to help kids graduate. The salaries are certainly a benefit – they are higher and teachers tend to stay in the same school for 20 + years – there is a lot of stability in that. Basically it is a pros and cons thing. There are definitely things I miss about working in Las Vegas. But I have enjoyed really jumping into the Washington education experience, as well.
---
Derek Fialkiewicz (Executive Leadership Academy, Cohort 5) was born and raised in a small town just outside of Buffalo, NY. After graduating from SUNY Fredonia with a BS in Mathematics Education, he left the snow behind for the bright lights of Las Vegas. Derek competed in track and cross country in HS and college, focusing on the 800m, high jump, and decathlon. He enjoys playing golf and is an avid Buffalo Bills and Buffalo Sabres fan.
Kelly O'Rourke (Executive Leadership Academy, Cohort 2), known by her friends as "KO," was born in Southern California and raised in Colorado. She graduated as a Littleton High School Lion. She played tennis at the high school and collegiate level and hopes to get back into the game soon.  Her heart is in Colorado and Telluride, CO, where her family is rooted, and it is her happy place. She is a big fan of the Denver Broncos and Colorado Avalanche.
Kelly and Derek have a wonderful blended family of five children ranging in age from 20 – 31, and a 9-month old grandson. When it was announced that the NHL was expanding to Las Vegas, the Golden Knights were quickly added to their sports allegiance. They have been season ticket holders since their inception. Kelly and Derek enjoy traveling, wine tasting, and watching true crime documentaries.